Eight undergraduate BME students, one BME alumnus and Dr. Christopher Wagner hopped on a plane to sunny Orlando to share their research at the 2021 Biomedical Engineering Society (BMES) Annual Meeting this fall. Axel Delakowski ('21), Lara Abdelmohsen ('22), Spencer Haber ('22), Eugene Kim ('22), Wali Sohail ('22), Sabrine Vander Wiele ('23), Michelle Meyers ('23), Jack Feliple ('23) and Allen Hong ('24) represented The College and presented their Summer 2021 MUSE research. Their research encompassed a wide range of diverse topics including mathematical modelings of wound healing and the effects of space radiation on rat bones. In Florida, our engineering students had opportunities to learn about cutting edge biomedical advances, speak about their own experiences and network with professionals.
Sophomore BME student Allen reminisces about his first time at the conference, "Our trip was pretty interesting; it was my first time on a plane! On our first day, we arrived at the hotel and visited the conference center which had a range of members from academia, graduate and undergraduate students, and even members of industry! It was really interesting learning about everyone's projects and how diverse the field of BME really is. It was a really good networking opportunity to connect with different professors and students about the types of research they do. Outside of the conference, we were able to visit Disney Resorts and Universal as well during our stay!"
Senior BME student Spencer also recounts his experience, "I learned about the breadth and depth of biomedical engineering as I read and saw several posters at the conference. I also learned about interesting and cutting-edge research areas in the biomedical engineering discipline. I saw, met, and talked with several graduate schools and medical schools.  Overall, the Biomedical Engineering Society Conference was very student-friendly and student-positive, so I felt happy to be there. I am very proud and honored to attend the conference with my biomedical engineering peers. I am very grateful and thankful for TCNJ's School of Engineering and especially my principal investigator, Dr. Wagner, for granting me this wonderful and unforgettable experience."
– Anisa Lateef '22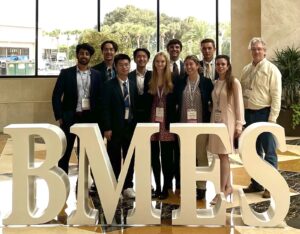 (Left to Right): Wali, Axel, Allen, Eugene, Sabrina, Spencer, Michelle, Jack, Lara and Dr. Wagner in Orlando.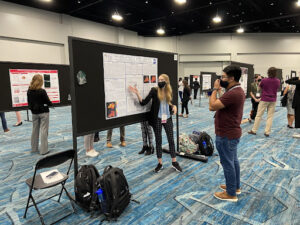 Sabrina presenting her research poster.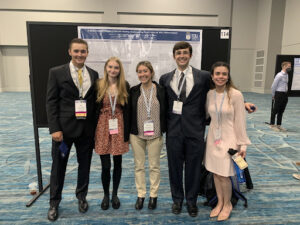 (Left to Right): Jack, Sabrina, Michelle, Spencer and Lara full of smiles at BMES 2021.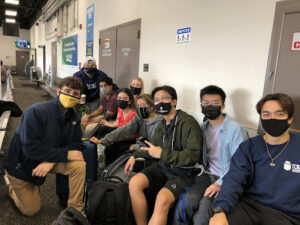 The TCNJ BMES ready to get to Orlando.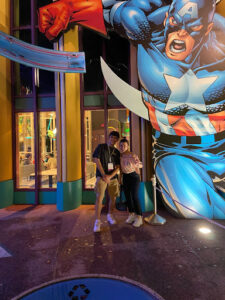 Spencer and Lara exploring theme parks after a long, productive weekend at BMES 2021.
If you are an engineering student and did something awesome you want us to know about, email us at: soengweb@tcnj.edu.