Dr. Xuefeng Wei is an Associate Professor of the Biomedical Engineering (BME) Department. His main research interest is neuroengineering, specifically neuromodulation. Neuromodulation is the application of electrical stimulation to the brain as a way to treat neurological disorders. This is done by placing an electrode probe into the brain and pulse generator in the chest to provide therapeutic effects. 
The brain is one of the most complex organs in the human body. Currently, there are many neurological disorders but limited therapeutic options. Drug therapy is an option until people get used to the drug to the point that they no longer respond to it. This then leads to an increase in dosage over time. Neuromodulation gives hope to patients that no longer respond to drugs. Neuromodulation technique is already an FDA approved treatment for a handful of mobility disorders (eg. Parkinson's, tremors, epilepsy). This therapy can also be applied to different areas of the brain for various pathological issues so there is hope that this technique can be promising for psychological disorders too (eg. depression, OCD, addiction). 
During the Mentored Undergraduate Summer Experience 2021 with Dr. Wei, there are no studies performed on humans.. His lab is all computational and very visual. He and his students are designing new electrode probe geometry for safer and more selective brain tissue stimulation. The goal is to increase therapeutic effects while decreasing side effects using neuromodeling and electrical fields. Dr. Wei prefers computational work over experimental work because of its controlled environment. When there's a problem, there's a reason that can always be pinpointed. That process requires a lot of critical thinking.
Advice from Dr. Wei to students: BME is a very interdisciplinary field. Even amongst the 5 faculty members in our department, we all have vastly different backgrounds so our skill sets are different. Be open minded to exploring the various aspects and subfields of BME. As an undergrad, go through classes, talk to professors and try summer experiences to get a sense of what you want. When you go to graduate school, make the most out of the research rotation opportunities so you know what your passion is. You don't want to be 3 years into a PhD program and start to regret your decision.
– Anisa Lateef '21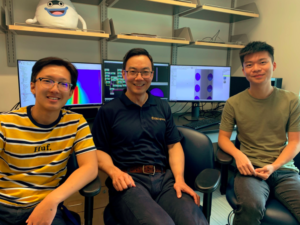 (Left to Right) Eugene Kim '22, Dr. Wei and Allen Hong '24 in their STEM lab.
Eugene Kim '22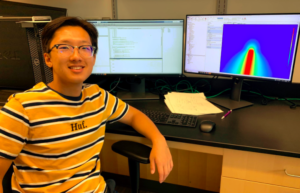 Meet Eugene: He is a rising senior biomedical engineering student & this is his 1st year doing MUSE with Dr. Wei.
Eugene's Side of the Project: Eugene's role is to come up with ways to make the probe design safer. The goal is to develop a design that can stay in the brain for longer amounts of time without causing brain tissue damage and complications. He observes how voltage spreads through the brain tissue in various probe designs. He also uses computational programs to determine how much volume in the area of the tissue is effectively being targeted. 
Hometown: Cherry Hill, NJ
Hobbies: playing piano, practicing tennis & spikeball, hiking, driving on curvy backroads 
@ TCNJ: Delta Tau Delta fraternity, Student Government, College & Engineering Ambassador, Theta Tau engineering fraternity
Any advice for future students working in a lab?
Try to pick something you're really interested in, otherwise it might get tedious because you are doing something everyday for an extended period of time. You kind of do want to consider what you're getting into carefully. Also, this is pretty corny but you get what you put into it. The harder you try, the more fun you're going to have. 
What's a fun fact that you've learned while doing MUSE?
Things don't always work out well. You have to kind of be like "that's fine" and try to find ways around it.
Allen Hong '24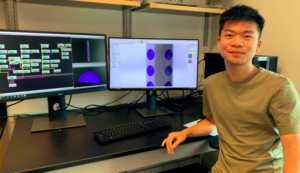 Meet Allen: He is a rising sophomore biomedical engineering student & this is his 1st year doing MUSE with Dr. Wei.
Allen's Side of the Project: Allen is in charge of analyzing how efficient a design is through data visualization. A battery can last 5-10 years in the body but then needs to be replaced with another surgery so a more efficient and longer lasting battery will avoid the need for more surgery. He uses data from Eugene's models to produce the volume of tissue activated through 3D images. Through his results, he can determine selectivity and possible drawbacks of a design.
Hometown: Jackson, NJ
Hobbies: running, photography & videography, the outdoors, going to the beach, occasionally vlogging
@ TCNJ: Treasurer for the Asian American Association, Biomedical Engineering Society member, TCNJ Running Club member
Any advice for future students working in a lab?
It's really important to go to office hours and express interest with professors because it really means a lot to them when someone is interested in their research. With working in the lab environment, sometimes you have to be prepared for things to be tedious and not always fun. There are definitely rough patches that you have to go through, you have to be patient. It's also research, so maybe your hypothesis isn't always correct. That's something you have to accept, that the results won't always favor what you think will happen. 
I also think with the MUSE program in general, it's important to have a balanced lifestyle outside of just doing research. Meet with other students, network and make those connections. It's the 8AM-5PM hours of doing research, then after that you go home and have to take care of yourself. That stuff is really important to consider. 
What's a fun fact that you've learned while doing MUSE?
Honestly, I learned that our professors are a lot more down to earth than what we think. They're very passionate about their work. Dr. Wei is kind of just like a normal guy, he goes to the gym and has a Tiktok. A lot of our professors are really just down to earth people. They're really passionate about their research but they're also people outside of that.