Students from TCNJ's biomedical engineering department have been studying one of the latest trends in NASA science. Dr. Anthony Lau and his research group have traveled across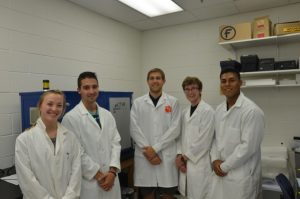 the country in hopes of gaining insight into the effects of space radiation on rodent bones. Danielle Howe, Dale Johnson, Alexander Borg, Steve Ayala and Phillip Bianco participated in the summer program, and have all achieved academic excellence to fund their research.
Two of the students qualified for the college's Mentored Undergraduate Summer Experience (MUSE), an opportunity for students to spend the summer expanding their knowledge by doing unique research with a TCNJ professor. The other three students in the program were awarded the New Jersey Space Grant Summer Fellowship, a prestigious scholarship awarded to those who plan to do NASA related research. Their studies form five interrelated projects, based around sets of mice bones from Wake Forrestand rat bon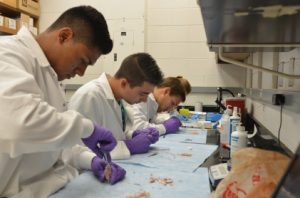 es acquired from Johns Hopkins. The space grant recipients gave oral and poster presentations on their research this summer at the NJ Space Consortium Meeting held at Rutgers, an opportunity to share their hard work and dedication their studies in this field.
Dr. Lau and his students first traveled to Baltimore, Maryland where they received bone tissues from rats which were exposed to sp
ace radiation. While in the DC area, the group stopped to see the National Institute of Health, one of the largest research and clinical institutions for biomedical sciences and engineering. While at NIH, the students toured high-tech labs and saw cutting edge developments in the industry. From there they made their way to the University of North Carolina, where the students learned bone dissection techniques and prepared all the rat bone sample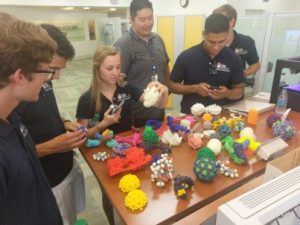 s for microCT scanning.
Despite the common specimen, the students each took their research in a slightly different direction. Steven Ayala explains his research as "the effects of low dosage radiation and tetanus toxin on the strength of bone" while Danielle Howe, a recipient of the NJ Space Grant, focused her work on the relationship of bone degradation and Chronic Kidney Disease. Howe used a computer simulation of medical processing to study the bones and find her conclusion. She states that "astronauts are more prone to get kidney stones after they get back from space because micro-gravity affects how kidneys function and therefore it affects bone function." Her work concluded that bone strength decreases with aging and Chronic Kidney Disease.
Alexander Borg focused his study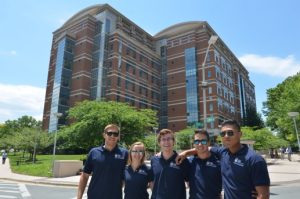 on designing a bio-mechanical testing device designing to physically study the small rodent bones. Borg states that "because the bones are on such a small physical scale, unique measures must be taken in order to test their physical strength after irradiation." He explains his work as "multiple machine attachments which interface with the rat femurs in a physiologically accurate manner. Such attachments will be connected to a larger machine that breaks the rat femurs and measures the maximum force they are able to withstand." Like Howe, Borg believes his study is critical for the health of Astronauts as "prolonged exposure to an environment beyond our magnetosphere still maintains a variety of induced traumas to the human body– whether acute or chronic– that requires research to move toward a preventative solution."
Summer research experiences are often vital to undergraduate students who hope to continue doing research. Dale Johnson, a student who is on the department's new Biomedical Engineering Research track and will continue his work with the rat bones next semester, believes that his summer experience was critical to his future professional career. While at NIH he realized that "how important networking is in a professional setting. The people you meet and the contacts you make can really benefit your career in education down the road." The experience has also inspired his hopes to acquire a position at NIH.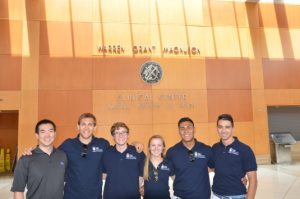 More information about the students' experience working on the NASA Space Grant can be found here: