On the afternoon of September 30th 2009, the students of TCNJ's School of Engineering took a break from their studies to enjoy the SOE's First Annual Ice Cream Social. Despite the forecast, the sun made an appearance for the 200 students who took part.
The event was organized and sponsored by the School and the Engineering Student Council. The Engineering Student Council is made up of the leadership from the various engineering societies and clubs, including: the American Society of Mechanical Engineers, the Technology Educational Society (TES), the Institute of Electrical Electronics Engineers (IEEE), the Engineering Honor Society, the American Society of Civil Engineers, the Society of Women Engineers (SWE), Engineers Without Borders (EWB), the Biomedical Engineering Society (BMES), the National Society of Black Engineers (NSBE), and the Society of Automotive Engineers (SAE). Each of these organizations had information available for prospective members.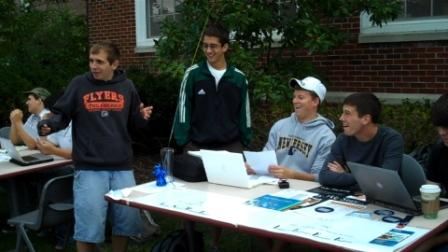 However this event was more than just ice cream and socializing. The highlight of the event was the Paper Airplane Contest led by Adam Brunner. The purpose of this contest was for students (and staff) to showcase their engineering abilities by building a paper airplane that could fly as far as possible with prizes awarded for the best distances. Adam Brunner and his "blue x-wing" plane got the longest distance by flying 110 feet! Second and third place prizes were awarded to Tom Coughlin and Shane Evans whose planes flew 100 and 87 feet respectively. A prize was also awarded to freshman Jonathan Ruff who won in most creative design.
Whether they came to learn about the engineering societies, the ice cream or the competition, everyone that attended the social left happy and hopeful for more ice cream socials to come.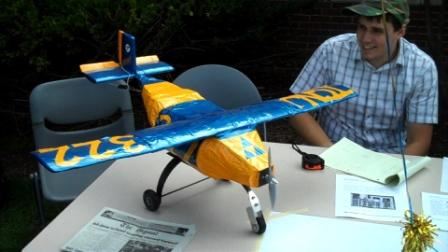 Learn more: